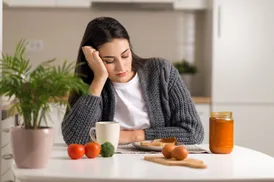 Your daily life is built around a fear of gaining weight. You monitor your calorie intake vigilantly and feel extreme guilt after eating, especially "bad" foods. Maybe you have periods of uncontrollable eating binges and vomit or take laxatives to avoid gaining weight. Or, perhaps you've noticed you eat large quantities of food past the point of feeling full, especially when you are under emotional distress. Either way, your focus on food or weight is getting exhausting and taking a physical toll on your body, but you're not sure how to relieve the pressure.

According to the National Eating Disorder Association, there are around 30 million people suffering from a disordered eating in the United States alone. Eating disorders often develop alongside other emotional or physical conditions, so seeking a qualified mental health professional in addition to physicians and a nutritionist is essential to your recovery.


Treatment of eating disorders depends on your individual needs and presentation. Our therapists typically use a combination of nutritional counseling, supportive psychotherapy, and CBT in order to achieve the best results. During our treatment sessions, we aim to change unhealthy habits, improve your mood, maintain a healthy weight, cope with stress better, and develop problem-solving skills.